**The following content is from Rosa Say's weekly newsletter**
Aloha mai kākou, Let's talk story. This week… there are choices to be made, and new habits to be forged in our lessons with social distancing and sheltering at home. There is also much good to be found!
"This will be the end of Twitter if outbreaks of courtesy like this don't stop." —Tom Nichols, when a disagreement broke through to more clarity and understanding.
The phrase "life comes at you fast" has settled into the forefront of my awareness this week; you too? I've also counted the blessing of our value of the month practice once again, in how serendipitous it can be; if there was ever a time to dwell on 'Imi ola choices with "Seeking your best possible life," surely, this is it!
Suggested MWA Review: 'Imi ola, the Value of Mission and Vision. #achoicewasmade
Ho'ohana Conversations
Our New Normal
I've never before thought of myself as an "elder at risk" or as 'non-essential' yet here we are! Here in the Say household, I'm on day 22 sheltering in place voluntarily; my last 'business as usual' outing was on February 26th, a Wednesday. By the time the week ended every one of my future business engagements had been canceled, and understandably so—I initiated the calls to any clients I'd not yet heard from. Yesterday was day 1 for my husband, as the day his employer trimmed his normally full-time schedule to an on-call (and unlikely) one. His personal ramifications aside, he is one who feels his employer, a hotelier, should be closing their doors completely for the best welfare of all… we've been amazed by the number of wealthier travelers who selfishly, callously – and erroneously – feel they can somehow escape the pandemic here in Hawai'i given our location as the remotest inhabited place on earth, expecting others to serve them without disruption or any inconvenience.
According the New York Times, a new study suggests that the coronavirus is "hiding in plain sight," and that for every known case of Covid19, another 7 to 10 cases are "out there" undetected. Please, please follow the hygienic requirements and social distancing recommendations now shared to keep yourself healthy as we ride out the evolution of this novel virus. It's the most generous, giving thing each individual can do, for in a 'novel virus' we have not gone through a cycle of responding biologically with our own human immunity. For now, and perhaps forevermore, everyone must think of themselves as an easily crossed bridge to someone who is more vulnerable.
Coronavirus timeline at NBC News: Tracking the critical moments of COVID-19.
Good Read at The Guardian: The family lockdown guide: how to emotionally and structurally prepare for coronavirus quarantine. An oldie but goodie: You are Your Habits, so Make 'em Good!
Habits are powerful – think of them as human magic. Lifestyle adjustments and habit changes can be challenging, yet this is also a time to ask yourself, "Should this be a change I keep forevermore?" each time you encounter a silver lining, such as new standards of cleanliness, polite social distancing, and other Kākou behaviors. Learn from history, and let past accomplishments inspire you: From the Washington Post: During a pandemic, Isaac Newton had to work from home, too. He used the time wisely.
Silver Linings
Adversity does 2 things for us: It proves how much we are capable of as human beings, and it exposes shortfalls we have not worked on and solved. Our radar intensifies during hard times, and we will see, and freshly analyze and reconsider issues that were previously relegated to our someday/maybe wish lists before.
"When we talk about 'getting back to normal,' we need to rethink the effect of human encroachment on the natural habitats of other living creatures." – @HawaiiDelilah commenting on the dolphins returning to Sardinian waters without the toxic polluting of ships and ferries. "Wow… Earth is recovering – Air pollution is slowing down – Water pollution is clearing up – Natural wildlife returning home… Coronavirus is Earth's vaccine… We're the virus." – Thomas Schultz
In Work
When you don't "have" to, you "get" to. The silver lining in my own 22 days at home and counting, has been the opportunity to work on my passion issues via more research, data collection and study. The mainstay of my work is value alignment, the role of the manager, and workplace culture-building as reflected in the 9 Key Concepts, whereas my passion issues include financial literacy, a living wage for all labor done, and the reconstruction of business models – I consider them the most pressing concepts within the 'Ohana in Business® model;
As Steven Pinker has said, "If you're committed to progress, you can't very well claim to have it all figured out." Like many of you right now, I do think about our loss of revenue as my husband and I learn to better appreciate our time at home together away from the work which normally pays our bills. Yet I must say I am loving the time I now have to work on my passion issues, and on other hot buttons!
(e.g. I fully agree with the caveats and conditions Senator Elizabeth Warren outlines here, when she says, "We're not writing blank checks to giant corporations. Any taxpayer dollars that go to help big businesses during the coronavirus crisis should come with the following minimum requirements…") What are your passion projects, and how might you be able to work on them right now? Suggested MWA Review on those shortfalls adversity tends to illuminate for us: Ho'omau, the Value of Perseverance, and Ho'omau; Love the one you're with: "Love the one you're with" is better coaching than "practice continuous improvement." It sounds more intriguing, and well worth one's effort. Yet the two phrases are the same, both framing an essential business practice; necessary reiteration, the constant tweaking to get ever better at whatever it is we do.
At Home
In one of the more recent governmental responses to the pandemic, comes the decision by the Trump administration to invoke the Defense Production Act to help make up for potential medical supply shortages and deploy two hospital ships as the US battles the coronavirus pandemic. As my at-home habits for the long haul evolve, my own thoughts have been on victory gardens:
"For the average American in World War II, the Victory Garden was a practical way to contribute to the war effort. Some 20 million Victory Gardens were planted (US population in 1940 was 132 million), and by 1943, these little plots produced 40 percent of all vegetables consumed in the US. It's estimated that 9-10 million tons of vegetables were grown." – Victory Gardens in World War II, UC Master Gardener Program of Sonoma County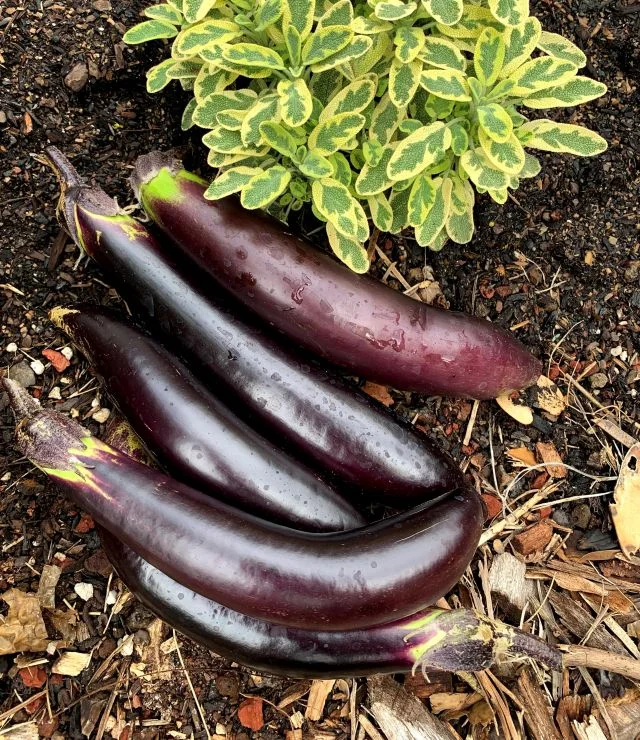 Yesterday morning for example, I was ready to pull out one of 3 eggplant shrubs still thriving in my garden after planting them last Fall – they are prolific producers, and there is only so much eggplant our family can eat. I fertilized, watered, and let them be, challenging myself to think more broadly instead – surely I can share them with more friends and neighbors.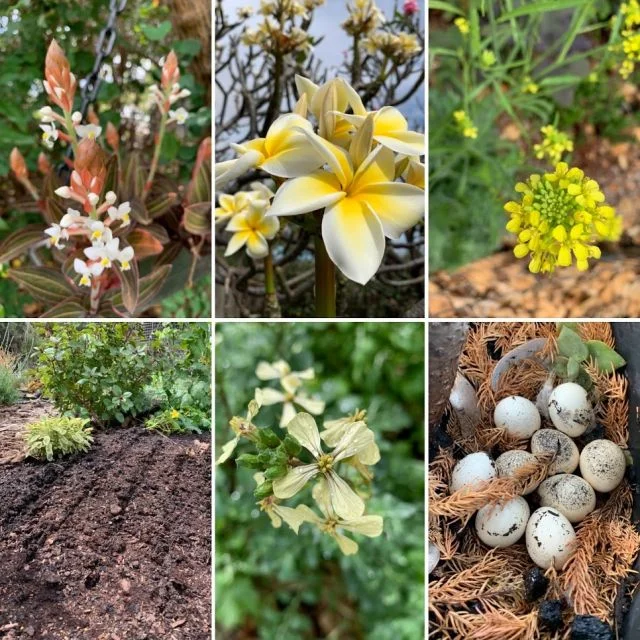 My Auhili Garden is as far as I'm walking for exercise right now. We've planted tomatoes, turnips, radishes, snap peas and microgreens this week, all quick growers and high producers. Birds are nesting, gently (and noisily!) reminding us that life goes on and we must nurture it best we can.
This useful, calming advice, which I recommend it highly, comes from historian Shane Landrum, PhD;
"Start keeping a journal today, ideally a hand written one if that's within your ability. Write about what you're seeing in the news, how your family and friends are responding, what is closed in your neighborhood or city or state or country. Save it…Do it by hand, on paper. The hand-writing will adjust your brain. It will take you offline and out of the swirl of news and hopefully, for a moment, into a little bit of peace in the midst of crisis." He explains; "I worked at a news organization on 9/11/2001, and I recognize the ways that my very online professional networks communicate in a time of global crisis. What's going on this week is like that. The feeling in my gut about historical importance is nearly the same…Sometimes you know you're living through an event that will be in the history books very large. I study the history of public health and information technology and law and politics. There's so much going on that touches all of those things this week."
Be a historian and an analog curator for you and for your family.
Bonus link on Managing With Aloha: Curate, and Be Curated.
In my own curation, I am seeking out silver linings and acts of generosity and kindness during this pandemic, such as this one: Old Fourth Distillery usually produces premium vodka, gin and bourbon. Now, it's hand sanitizer. Please send me a pointer on what you find businesses are doing to be better.
Mālama pono – take care of yourself. I'll end with some coaching from fitness expert Brad Stulberg on Wellness—the kind that actually works. (Last I checked, the link to Outside Online was broken, however I captured his tips on this MWA blog post). Have a great week, we Ho'ohana Kākou, Rosa