Attendees joined the Hi-Spa Ohana for interactive learning opportunities, lunch, and a chance to meet estheticians expertly trained by The Skin Institute Internationale. Members attending this event were be automatically entered to win a full scholarship for an upcoming 600-hour elite esthetician program!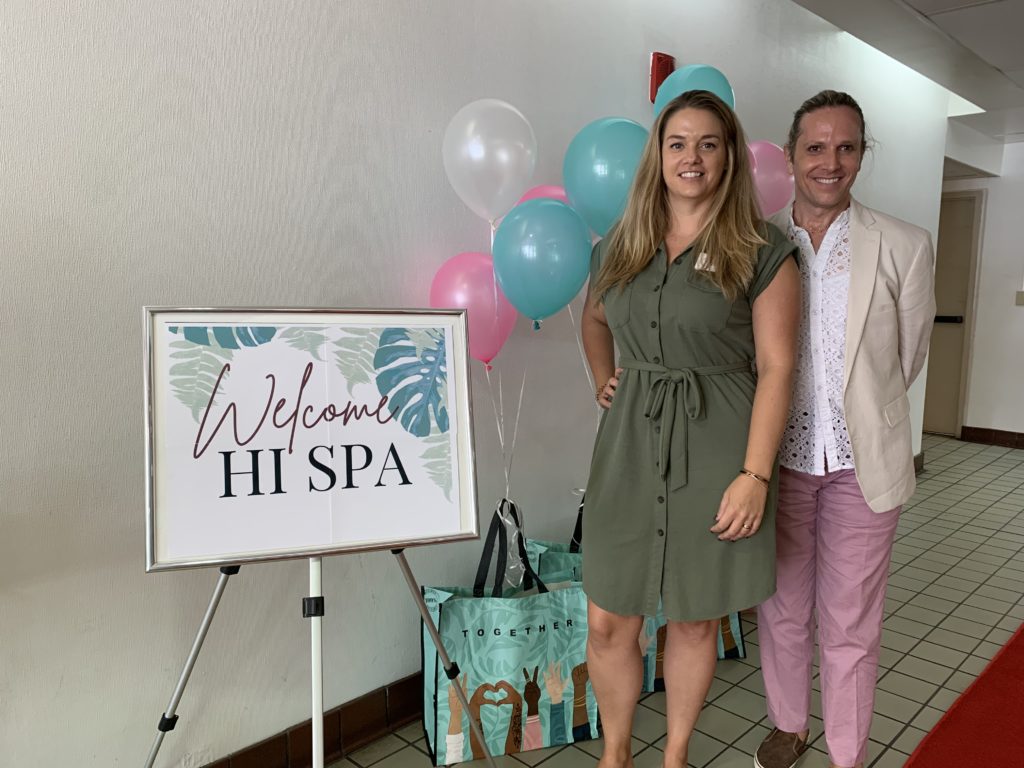 This past June 9, The Skin Institute Internationale (TSII) partnered with Hi-SPA in co-hosting a most exquisite spa experience seminar. The event was held at TSII school in Kaka'ako, Honolulu.
TSII Co-Founders, Mary Ronnow & Lieren Pearson and their team did a magnificent job from start to finish. From laying out a red carpet (literally!) with a welcome flute of sparkling wine, guests were met at the ground floor entrance of the building and personally escorted up by TSII students to the school on 3rd floor. The school was set up as an Open House and after a tour of the facility including a special display by Hydrafacial, Mary welcomed the attendees and the day began.
The first seminar was given by Pam Chambers who gave an engaging presentation entitled: "Raising the Bar: Shaping Stellar Employees". This was followed by a most delicious full-on buffet lunch amid a backdrop of distinctive pink and white floral décor, crystal glasses, silver chafing dishes with appetizer, main course and variety of desserts from local culinary establishments. As if the lunch was not enough, a surprise feature was a featured percussionist, Becca Laurito, a member of the Hawaii Symphony Orchestra playing harmonic sounds from an array of singing bowls and a xylophone. The gentle energy healing and sound meditation made the lunch itself almost ethereal.
This was a perfect interlude to the afternoon sessions, the first of which was a presentation by Mary Ronnow whose presentation was "The Paradigm Shift in the Spa Industry", a summation of the key information presented at the recent ISPA Conference in Las Vegas, in which she also addressed the current employee crisis in the spa industry today and a poignant look of what may lie ahead. Mary's punctuated her presentation with "peak moments" emanating from her wealth of knowledge in the industry.
The final presentation was a delivery by Lieren Pearson in which she gave an amazing hands-on demonstration of quality control, posing the question, "Do we really know what's going on in our treatment rooms". Attendees were riveted by a Master Esthetician giving a demonstration equating to a work of art. The only regret was that the presentation should have been videoed and available for every spa director and esthetician to use as reference.
TSII extended complimentary esthetic services to those attendees who were able to stay on an enjoy this extra courtesy. All attendees were presented with a huge bag of complimentary products and other spa gifts to take home, or have shipped over for those who came over form neighbor island to participate in the event.
BIG MAHALO to Mary, Lieren and the whole TSII team for making a truly stimulating, enjoyable and rejuvenating event. To inquire about treatment availability at TSII, click here: TSII Spa Services.
The Skin Institute Internationale
1050 Queen St., #300
Honolulu, HI 96823